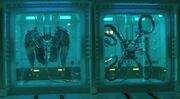 Vulture's mechanical wings is an exosuit, designed and used by Oscorp employee,
Adrian Toomes
. 
Appearances and Cameos
Edit
The exosuit appear at the end of The Amazing Spider-Man 2 when Gustav Fiers walks past them and Doc Ock's Mechanical arms both of which are held in storage in Ravencroft Institute and are put there as an easter egg for the upcoming spin-off film Sinister Six.
In The Amazing Spider-Man 2, on the first level which takes place in the Oscorp Tower you see Vulture's wings presented behind a window being held in storage and you have to take a photo of it for J. Jonah Jameson.
Ad blocker interference detected!
Wikia is a free-to-use site that makes money from advertising. We have a modified experience for viewers using ad blockers

Wikia is not accessible if you've made further modifications. Remove the custom ad blocker rule(s) and the page will load as expected.