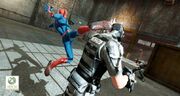 Oscorp Industries Minor Guards
are the lowest rank of
security
on
Oscorp Industries'
line of defense.
Background
Edit
Minor Guards are huge in numbers and always ready to defend anything Oscorp has. They are equipped with but a flashlight to find the masked hero Spider-Man when he disappears from battle. Other than that, their main offense is their own brute strength. Many underestimate these guards, but they can hold their own in battle.
Although they fight with fists only, even a man with super strength would have diffiuclty taking down these men. Usually, these Guards are used to distract enemies while other Guards hit from behind. They are also used to swarm enemies while in groups.
Ad blocker interference detected!
Wikia is a free-to-use site that makes money from advertising. We have a modified experience for viewers using ad blockers

Wikia is not accessible if you've made further modifications. Remove the custom ad blocker rule(s) and the page will load as expected.