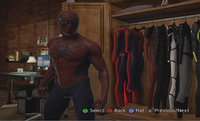 The Classic suit is the costume that was used in the original Spiderman film trilogy. It has many similarities with the classical one from the comics and is a featured suit in The Amazing Spider-Man (videogame).
Appearance
Edit
The classic suit has a silver 3D webbing pattern and sports the classic red and blue Spider-Man colours. The suit has reflective lenses and a mostly blue lower body and mostly red upper body.
Ad blocker interference detected!
Wikia is a free-to-use site that makes money from advertising. We have a modified experience for viewers using ad blockers

Wikia is not accessible if you've made further modifications. Remove the custom ad blocker rule(s) and the page will load as expected.