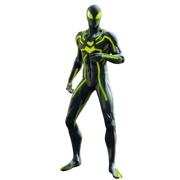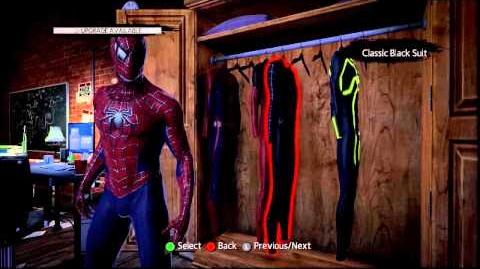 Big-Time is a Spider-Man suit you unlock in
The Amazing Spider-Man (video game)
and The Amazing Spider-Man 2 (videogame).
Appearance
Edit
The Big-Time suit is mostly black with with luminous glowing lime coloured separated lines making an enlarged spidey logo going from shoulder to shoulder with spider legs going down the length of spidey's body and repeated on the back of the suit. Also the eyes on the mask appear the same shape as the ones seen on Spider-Man's mask in The Amazing Spider-Man 2 and are also a luminous green colour.
How to unlock
Edit
(First game) When you have completed the game, you can locate Spider-Man logos around Manhatten, and take a photos of them which then unlocks a Spider-Man suit. To unlock the "Big Time" suit you must go to the central tower of Times Square where a big digital screen advertsing the Daily Bugle is shown, opposite this is a red stair case and on the glass back of it is a white Spider-Man logo to take a picture of.
Ad blocker interference detected!
Wikia is a free-to-use site that makes money from advertising. We have a modified experience for viewers using ad blockers

Wikia is not accessible if you've made further modifications. Remove the custom ad blocker rule(s) and the page will load as expected.